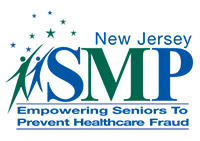 By Charles Clarkson, Project Director Senior Medicare Patrol of New Jersey
Medicare and other scams affecting seniors have become a major problem. According to the National Council on Aging, scams against seniors have become "the crime of the 21st century." Seniors are a targeted population. A senior might be targeted because of dementia, frailty, or loneliness. Seniors might also have assets that can be considered easy pickings by fraudsters.
Medicare and health insurance scams. Almost every senior citizen becomes eligible for Medicare when he or she turns 65. At the Senior Medicare Patrol of New Jersey (SMPNJ), we run into these scams all the time:

Callers who represent themselves as being from Medicare and ask for personal information. Medicare does not call Medicare beneficiaries to ask for personal information. At the SMPNJ we have heard that one of the new scams is beneficiaries being told that Medicare is issuing new chip embedded Medicare cards and they need to confirm their Medicare
Callers who offer free braces to unwitting seniors. These braces are delivered to beneficiaries who have not seen a doctor and are not medically
Genetic testing scams at health fairs are offered free to assist your doctor in treating you better or as a preventive service. These tests go by many names, including cancer screening, DNA screening, hereditary cancer screening, dementia screening, and pharmacogenomics – medication metabolization. Medicare beneficiaries should not voluntarily participate in any of these tests unless they are ordered by adoctor who knows their history and believes the test to be medically necessary to properly treat them.

Counterfeit prescription drugs. The high cost of prescription drugs has led many seniors to seek lower cost drugs. The danger to seniors is not knowing where the drug came from or was manufactured, the ingredients in the drug, which can be harmful, and even whether the drug is made to treat your symptoms. Don't buy drugs over the internet. Go to your local pharmacy to purchase all your drugs, and if you have any questions, consult your
Telemarketing scams. Telemarketing has become an easy way for fraudsters to scams seniors. Many seniors will always pick up the phone and have been doing so all of their lives. Many seniors are also familiar with and comfortable ordering things on the phone. We at the SMPNJ have this warning: IF YOU RECEIVE A CALL AND YOU DO NOT RECOGNIZE THE CALLER'S TELEPHONE NUMBER, DO NOT PICK UP THE CALL. LET THE ANSWERING MACHINE SCREEN ALL OF YOUR
What most seniors will find is that no message is left — an indication that the call is a scam or an unsolicited invitation to buy something.
Other Common Scams. While the SMPNJ mostly deals with Medicare and other health-related scams, we do see other scams that affect Medicare beneficiaries:

Grandparent Scam. This scam where a grandparent is called by someone saying a grandchild is hurt or in jail and the grandparent is asked to send money. The scam seeks to rely on the love of a grandparent for a grandchild, making the grandparent act without asking the right questions or seeking to establish whether the call is genuine. The caller, having done some background research, might know the names of the grandparent and the grandchild in
Social Security Scam. This scam seems to be on the rise, and the SMPNJ is hearing from many Medicare beneficiaries that they have received calls reportedly from the Social Security Administration indicating that their Social Security numbers have been involved in some criminal activity and they need to confirm their numbers to assist in resolving this
Internal Revenue Scams. As in other IRS impersonation scams, thieves make unsolicited phone calls to their intended victims fraudulently claiming to be from the IRS. In the most recent scam variation, callers "spoof" the telephone number of the IRS Taxpayer Advocate Service (TAS) office in Houston or Brooklyn. Calls may be "robo-calls" that request a call back. Once the taxpayer returns the call, the con artist requests personal information, including a Social Security number or individual taxpayer identification number. Like most agencies, IRS and TAS do not initiate calls to taxpayers "out of the blue." Typically, a taxpayer would contact TAS for help first, and only then would TAS reach out to the taxpayer. In other variations of the IRS impersonation phone scam, fraudsters demand immediate payment of taxes by a prepaid debit card or wire transfer. The callers are often hostile and abusive. Alternatively, scammers may tell would-be victims that they are entitled to a large refund, but must first provide personal information.
Scams and scam artists will always be an issue. Beneficiaries must now be more vigilant than ever before to protect themselves from Medicare and other scams. If you need help with a Medicare scam, call the SMPNJ at 1-732-777-1940 or at our hotline number 1-877-SMP-4359 (1-877-767-4359). Please also visit our website at seniormedicarepatrolnj.org. If you need more information about Medicare scams or wish to inform us of a Medicare scam online, click on Report Fraud.